Great closing event – Wed April 6th, 2022 – of season 3 at Thales AI@Centech in Montreal. Thales Ai@Centech managed to organize a very interesting and interactive demo day, even if from a distance.
The meeting was organized on GatherTown and allowed us to share the results of the acceleration program with more than 100 attendees.
For this we can only thank all the Thales team who followed us, believed in us and in our technological solutions for flight safety, so much so as to establish an ongoing collaboration. So the real journey begins now and is made up of important stages and joint objectives that cover all obstacol detection needs on the ground, in flight and in city corridors.
We are really happy to work in the world of aviation and urban air mobility, to provide safety systems based on artificial intelligence and computer vision that solve problems that humans cannot face alone. In this regard, all the tests have given us exceptional and almost unexpected results, so we are ready to continue our journey with enthusiasm.
The image below gives you an idea of ​​the dynamism of yesterday's meeting in which, among nice avatars representing highly professional people in new technologies, meetings and exchanges of great interest took place. Thanks again to all the AI ​​@ CENTECH season 3 team!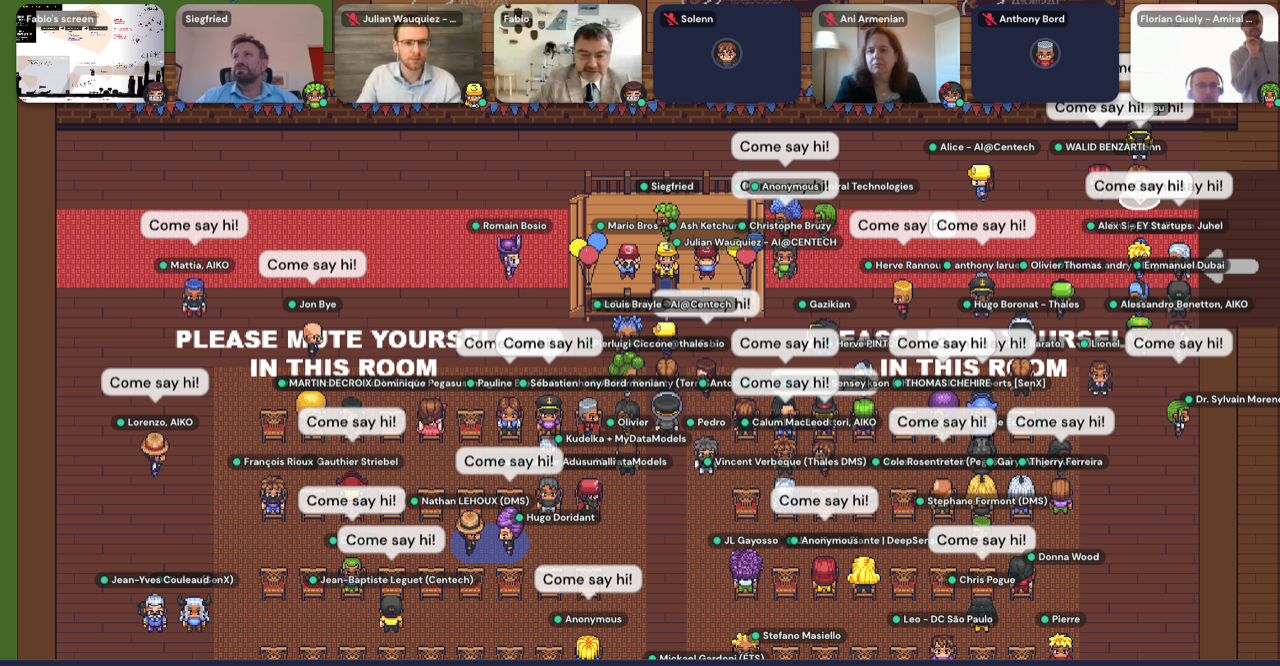 Our CEO Fabio Masci expressed all his appreciation in the 3-minute pitch that we report below, and finally please watch the video, which summarizes 6 months of intense acceleration and growth work, produced by AI@CENTECH!
"Good day and thank you all for attending to this extraordinary event. Let me briefly introduce myself and our company.My name Is Fabio, founder and Lead executive. Before doing this, I served in the ITAF for almost 25 years as a fighter pilot. Beside other duties I was appointed as chief of flight safety at my WING and at TLP _tactical leadership Program_. In 2017 we established the EDGE a deep tech company that developed a family of a new generation obstacle detection systems based on computer vision and artificial intelligence.

We started from a ground-based system the BCMS VENTUR originally designed to be a bird detection system, which rapidly evolved to an obstacle detection system. BCMS demonstrated on real life ops that what we promised is real, achieving even better performance result than expected.

During the past 6 months at AI@CENTEC we pushed even further, steering the development towards further application going airborne, then. We focus on what we call BCMS VENTUR-X airborne obstacle detection system. Solution based on a well-balanced proprietary technology blend. Advance computer vision technique and artificial intelligence algorithms for the detection of obstacles possibly targeting autonomous vehicles.

BCMS VENTUR-X will complete the offer creating the condition to contribute to an advance, integrated and interconnected architecture able to enhance the NEW digital sky concept.

Last but not least what make us proud the most is that we demonstrated to be real. During this journey we had the chance to face skepticism about implementation timings and success probability of the proposed solutions. Well, after implementation on real life scenarios we demonstrated that the system does what expected. And it does it right."